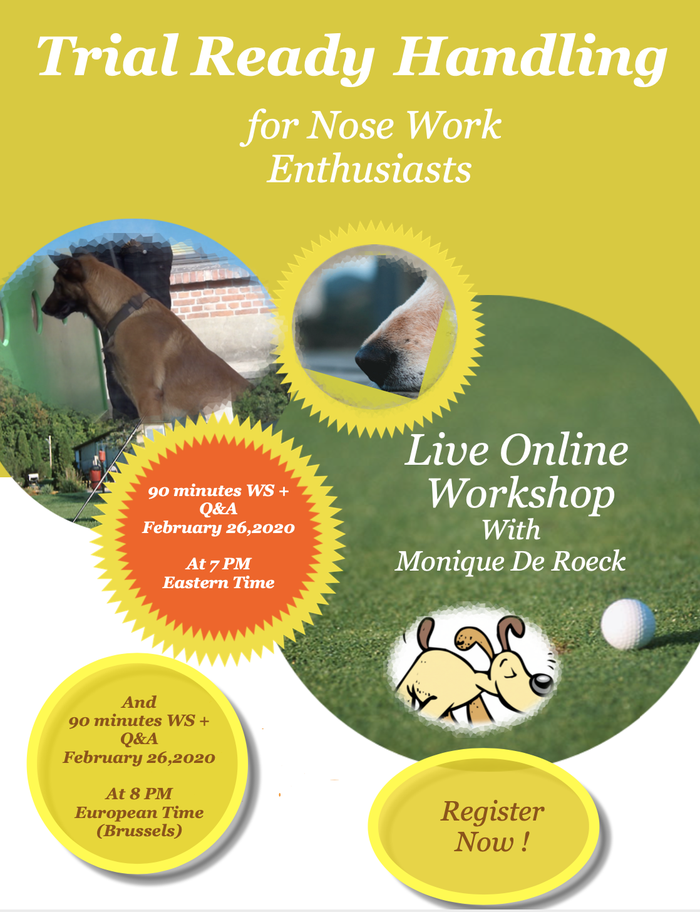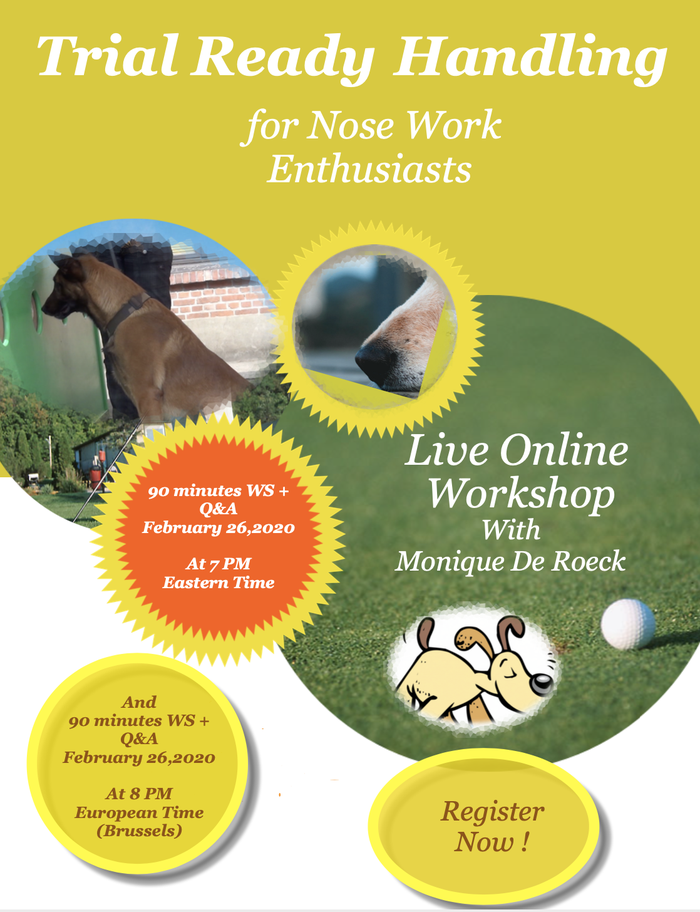 Registration 90 Minutes Live Online Workshop + Q & A ~
February 26, 2020 ~7 PM Eastern Time
Registration 90 Minutes Live Online Workshop + and Q & A ~
February 26,2020 ~ 8 PM European time (Brussels)
---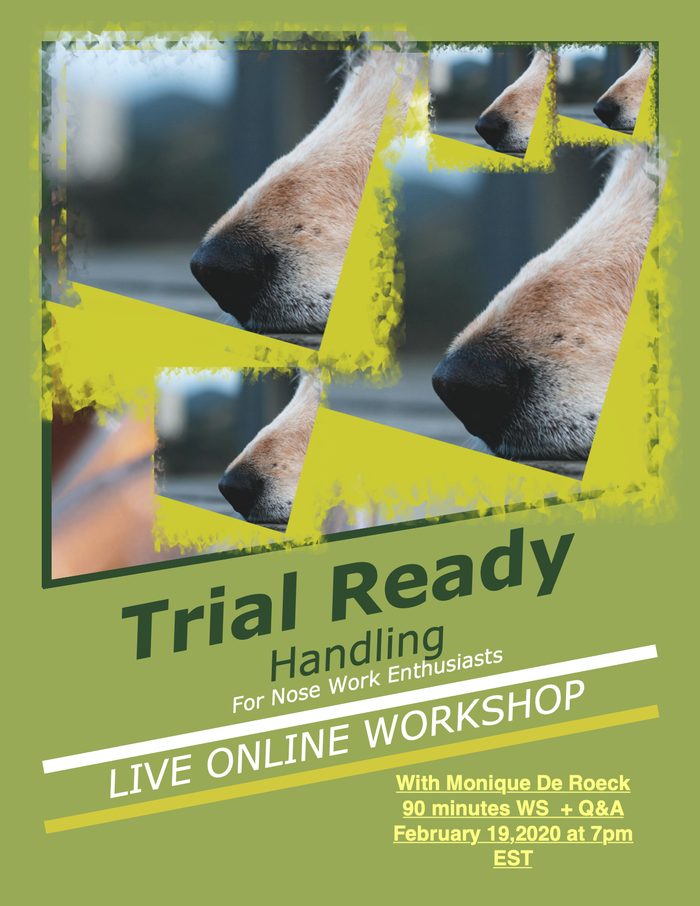 ---
June 14∼15, 2018
This 2 day event will provide an opportunity for 12 teams to work complex hides.
Learning to identify when the dog is working the problem and how you can support with simple changes in your handling will be presented.
Further details to be published when registration opens,
---
When : April 11~14,2019
Where : Monique's Working Dog Academy
               1372 Burrell Rd 
               St Johnsville, NY 13452
People working in the detection dog field : don't miss this opportunity ! 
Monique is more than willing to share her knowledge and tools  out of her nearly 30 years of experience in the working dog field as a professional,  
Her proven methodology and training philosophy has been recognized and respected by professionals in different countries as the simplest and most effective way to train dogs in detection work.
People signing up for this workshop will  have the benefits of this highly claimed program and learn all the secrets from building a solid foundation to how to become a successful working team with your dog in a positive and respectful way.
People who have less experience or who are willing to learn a lot about dog detection can sign up for an auditor spot.  Monique takes 10 attendees only to guarantee the quality and personal attention in this workshop. 
For Terms and Conditions click here
Early Bird Rates for people signing up before 02/15/19 ! 
---
Motivation/Communication Problem Solving
Exclusive Workshop.  Don't miss this unique opportunity to learn A LOT MORE about Motivation /Communication/Problem Solving for all kind of Training-and/or Working Dog Programs. 
When : May 14~16, 2019
Where : Tuscany / Italy / Europe
Information / Registration :
Phone : + 39 338 869 12 95
Email : info@rispettoalcane.it
---
Change your perspective on dogs with this Program that treasures the information acquired by Monique De Roeck during almost three decades of experience conducting behavioral assessments, training driving and working with high drive, aggressive behavior, fear, control deficits of impulsivity and hyperactivity.  Her proven methodology has been recognized and respected by professionals in different countries as the simplest and most effective to train and work with dogs.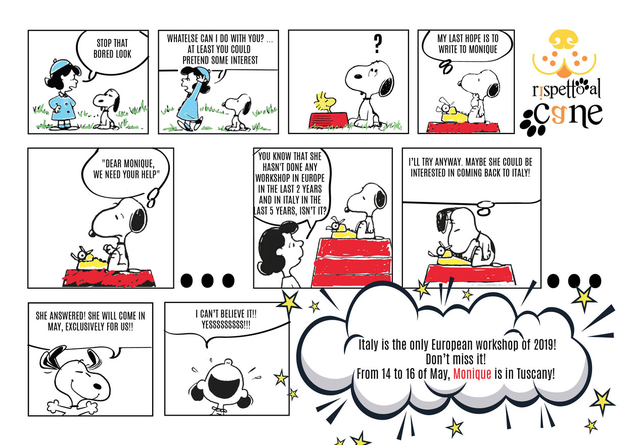 ---
June 1∼2, 2019
Workshop Limit : 10 Attendees
Register before May 1st, 2018 to receive Early Bird Rate : $ 325
After May 1st, Regular Rates Apply : $ 400 
Lunch is included in seminar fee.
Well behaved dogs are welcome !
Comfortable Lodging in the Academy is possible but limited.  
(please contact us for lodging possibilities/details)
This workshop is designed for trainers, instructors, individuals who are interested in learning more about diabetic alert dog training and/or are interested in becoming one of our certified diabetic alert dog trainers. In this workshop we will cover the foundation work and guide you through the step by step process, how to select a dog for alert work, understanding how dogs detect changes in a diabetic blood sugar level. Your days will be filled with lecture and hands- on training exercises.
---
A weekend with 2 amazing topics :
When : Saturday June 22, 2019 ~ Focus and Connection~9am-5pm
             Sunday June 23, 2019 ~ Behavior and Consequence~9am-5pm
Where :  Campus Dogs Among us
               10, Klocks Corners Road
               Oswego, NY 13126
               (Indoor facility, completely climate controlled
               if the weather is not cooperative.)
You have the choice to sign up for 1 or 2 days.  Check out our discounted rates for 2 days registration.  (Limited Working Spots)
Tuition :
1 day : Auditor 160 $ ~ Working Spot : 220 $
2 days : Auditor : 299 $ ~ Working Spot : 399 $
Focus and Connection ~ June 22. 2019 :
Clear communication and understanding between dog and handler is key to successful outcome during training and real life situations.
This informative one day workshop will teach participants how to train their dogs to stay focussed and connected.  Dogs learn to look to their handlers for guidance and direction even in the presence of distractions.
Learn to recognize and understand :
What focus look like                                                                                       i.e. 

Your

 dog maybe right beside you, but their focus may be elsewhere
How to establish and maintain connection with your dog
When to reward  to ensure you are rewarding the "right" behavior
How to maintain focus in the presence of distractions
---
This exclusive hands-on training workshop is designed but not limited for the trainer/sport dog trainer/working dog trainer/behaviorist/vet tech's. shelter staff and pet owner who wants to step up their skill/training level 
A selection of some of the topics covered in the WS :
Tailored training techniques for the individual dog /handler
Building a solid foundation in training/education 
Focus and connection
Tailored problem solving techniques in training
How to build a functional training structure
Getting a better understanding about behavior and consequence
How to change the emotional response in training
You can add 1 topic/week of your choice to work on
You can bring a dog or work with one of our dogs in training
and so much more ....
Limited spots to guarantee individual attention and feedback !
Lodging in our Academy is possible (lodging fee is not included in WS Fee, if interested contact us ASAP.
For Registration Click Here.  A Pay Pal invoice will be emailed to you.  Your payment secures your registration.